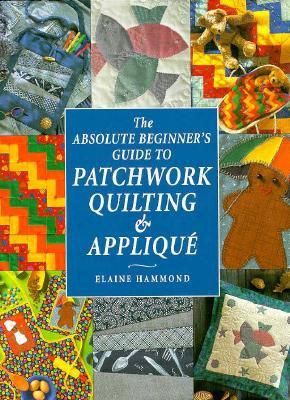 Hammond, Elaine. The absolute beginner's guide to patchwork, quilting & appliqué. Newton Abbot, England : David & Charles, c1997.
Des instructions détaillées pour réaliser 25 projets (tablier, sacs, couverture de théière, coussins et quilts) vous conduisent à explorer de nouveaux aspects du patchwork.
Découvrez de nombreux blocs traditionnels, le crazy patchwork, des techniques de quilting main et machine – corde, ombre, écho, sashiko, etc. – et différentes techniques d'appliqué, dont le vitrail.


Step-by-step instructions are provided for making 25 beautiful projects, each designed to introduce you to a new aspect of quilting.
Discover a range of different patchwork designs – puffed, pinwheel, cathedral windows and more – and crazy patchwork, explore a variety of hand and machine quilting techniques – corded, shadow, echo, sashiko, and more -, and try out a number of different appliqué techniques – stained glass, and more.
As you learn these new skills you will be creating a range of useful items, from apron, purses and tea-cosies, to cushions and full-size bed quilts.