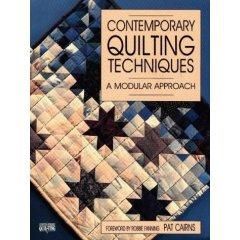 Cairns, Pat. Contemporary quilting techniques : a modular approach. Radnor, PA : Chilton, c1991.
Ce livre est la 2ème édition de "Putting it all together".
Apprenez à couper et piécer des patchworks rapidement, utilisez la méthode des multibandes, quiltez à la machine en modules, cousez des Log Cabin à la chaine, apprenez le trapunto, et bien plus !

The second edition of "Putting it all together". You will learn how to cut and piece tops quickly, use the versatile multistrip, machine quilt in modules, speed-piece Log Cabin, appliqué trapunto, and more!