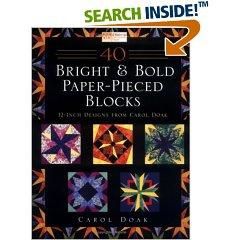 Doak, Carol. 40 bright & bold paper-pieced blocks : 12-inch designs. Woodinville, Wash. : Martingale & Co., c2002.
40 blocs de 30 cm, ainsi que 8 projets de toutes tailles sont présentés, tous réalisés avec la méthode facile de la couture sur papier.

40 new 12'' blocks, plus 8 projects ranging from wall quilts to bed quilts, all made easy with paper piecing.